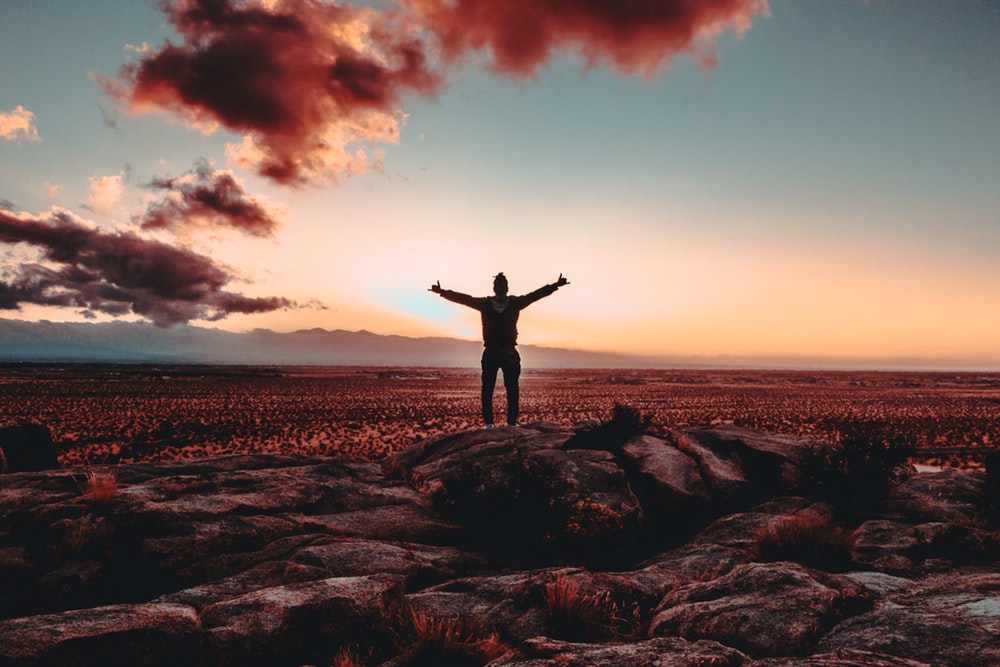 Sometimes the battles we face seem to be personal but the reality is, they are not Personal battles but Destiny Battles. So much is tied up in you winning that battle you are facing today. Before I go ahead of myself, lets mirror on phenomenal people in the Bible who faced challenges but despite it all, they got a hold of something special that geared towards a generational shift. What do I mean when I say a generational shift? Their resilience, their pursuits, their persistence, their obedience, and desperation, birthed a move that made an impact and a change that spanned from generations to generations.
1..Ruth
Ruth 1:15-17(NKJV)
And she said, "Look, your sister-in-law has gone back to her people and to her gods; return after your sister-in-law." But Ruth said: Entreat me not to leave you, Or to turn back from following after you; For wherever you go, I will go; And wherever you lodge, I will lodge; Your people shall be my people, And your God, my God. Where you die, I will die, and there will I be buried. The Lord do so to me, and more also, If anything but death parts you and me."
Ruth exemplifies a woman who took a step of faith, hope, and love, in spite of her loss and pain, to pursue a future in an unfamiliar territory. Leaving behind her past, the familiar and her faith was not a Personal Battle but a Destiny Battle. Her resilience to follow Naomi who could not offer her much only signifies a woman who had made up her mind to change her personal Battles of loss and grief, into winning a Destiny Battle by choosing to step into uncharted territories of Bethlehem, where God had visited His people. Out of her Quest to pursue Destiny, God favored her in a foreign land beyond measure by settling her and Naomi and if that was not enough, she carried the seed that brought forth Jesus.
Ruth had every reason to reject the new and turn back to her past, as it was for her Sister-in-law Orpah but that was never the case. Within her loins, she carried Destiny that pushed her to settle for a Destiny path that created a lineage that carried forth the genealogy of Jesus our Lord and savior. I don't know how many reading this post, you have kissed the old to pursue the new in Christ? You have kissed some relationships goodbye, you have moved to new territories out of obedience to God's instructions, you have walked away from your former lifestyle or you have made up your mind, to pursue Christ at the expense of cultures that limited your inner wings to fly. Congratulations for choosing to fight for your Destiny, you are a warrior and a champion in the making. Thank you for choosing a pathway that will create a new trail in your lineage that will birth new hope and courage. Trailblazers only create new trails that have never been walked before to enable others to follow.
2.Jacob
Genesis 32:24-28(AMPC)
And Jacob was left alone, and a Man wrestled with him until daybreak and when (the Man) saw that He did not prevail against (Jacob), He touched the hollow of his thigh; and Jacob's thigh was put out of joint as he wrestled with Him. Then He said, Let Me go, for day is breaking. But (Jacob) said, I will not let You go unless You declare a blessing upon me. (The Man) asked him, What is your name? And (in shock of realization, whispering) he said, Jacob (supplanter, schemer, trickster, swindler) And He said, Your name shall be called no more Jacob (supplanter), but Israel (contender with God); for you have contended and have power with God and with men and have prevailed.
I believe Jacob was sick and tired of being at the same level, he had experienced endless frustrations from where he was coming from (Laban's oppressions) and he was tired of his life not reflecting the blessings of God yet he was in covenant with God through Abraham. The above battle was a defining moment for Jacob and losing was not an option. This was not a Personal Battle but a Destiny Battle which was a deal-breaker for His next level as Israel.
Are you sick and tired of being at the same level, are you sick and tired of oppression and are you sick and tired of your life not reflecting the glory and power of God? You know deep within you it's your season for the next level? You know the time has matured to be ushered in your next dimension. Honey! Wage war with the word of God and refuse to settle for anything that does not reflect what God says about you in His word. There is a season for process and there is a season to step into what God has been molding you for. There are people counting on you to win the battles you are facing today and not only are they counting on you, but they will be delivered and their destinies will be altered by you winning this war.
3.Hannah
1 Samuel 1:3-7(NLT)
Each year Elkanah would travel to Shiloh to worship and sacrifice to the Lord of Heaven's Armies at the Tabernacle. The priests of the Lord at that time were the two sons of Eli, Hophni and Phinehas. On the days Elkanah presented his sacrifice, he would give portions of the meat to Peninnah and each of her children. And though he loved Hannah, he would give her only one choice portion because the Lord had given her no children.So Peninnah would taunt Hannah and make fun of her because the Lord had kept her from having children. Year after year it was the same Peninnah would taunt Hannah as they went to the Tabernacle.Each time, Hannah would be reduced to tears and would not even eat.
1 Samuel 1:9-11(NLT)
Once after a sacrificial meal at Shiloh, Hannah got up and went to pray. Eli the priest was sitting at his customary place beside the entrance of the Tabernacle. Hannah was in deep anguish, crying bitterly as she prayed to the Lord. And she made this vow: "O Lord of Heaven's Armies, if you will look upon my sorrow and answer my prayer and give me a son, then I will give him back to you. He will be yours for his entire lifetime, and as a sign that he has been dedicated to the Lord, his hair will never be cut.
In the above context of Scriptures, Hannah's desire for a son was not a personal battle but a destiny battle. Within her loins, she carried a prophet who would be used so profoundly by God in executing God's righteousness, wisdom, and justice in Israel. During her season of trials, pain, and desperation, Penninah provoked her based on the fact that nothing in Hannah's life suggested she could have a child. Penninah never knew she was a catalyst to push Hannah closer to God, she never knew her mockery was only a platform for God to establish His perfect will upon Hannah's life and she never knew, Hannah carried a destiny seed that was different from her own seed. But, despite the ridicule, the delay, the frustrations, and the pain, Hannah never gave up her pursuit of having a child and not only an ordinary child but a child she committed to God for His work.
You might be facing rejection because nothing seems to be happening in your life or you might be facing mockery from family, friends or colleagues due to some people having achieved more than you but hello! Our Destiny paths are completely different. Comparison has birthed strife and oppressed thousand of dreams from maturing. There are no better words I can use than the words of Paul in 2 Corinthians 10:12 (NLT) Oh, don't worry; we wouldn't dare say that we are as wonderful as these other men who tell you how important they are! But they are only comparing themselves with each other, using themselves as the standard of measurement. How ignorant!
Be encouraged today my beloved, what you carry within you is special in God's Heart. Don't get an attitude towards God because of your Penninah! instead, draw closer to God. Stop personalizing your current battles and view them as Destiny battles. Your life, your seed, your destiny, your assignment, and your purpose is not a joke in God's eyes. God never breathed His power over His promises for your life to turn out to be a joke!No,no.no.no you've got to win this battle and the good news is, your victory is already guaranteed through the blood of Jesus.
4.Jesus Christ
John 19:28-30(NKJV)
After this, Jesus, knowing that all things were now accomplished, that the Scripture might be fulfilled, said, "I thirst! "Now a vessel full of sour wine was sitting there; and they filled a sponge with sour wine, put it on hyssop, and put it to His mouth. So when Jesus had received the sour wine, He said, "It is finished!" And bowing His head, He gave up His spirit.
Jesus' mission was clear and the prophecy had to be fulfilled. He had to win the battle over sin, for you and me to have access to our Heavenly Father through Him. He overcame sickness, He overcame poverty, He overcame darkness and death by pursuing His Heavenly Fathers Agenda and winning a Destiny Battle that delivered men from the yokes of the enemy. He went through persecution, He was falsely accused, He was rejected but despite what He went through, He focused on winning this Battle. His love for mankind was beyond our own human understanding. Thousands of years later, many generations have experienced salvation and the Gospel of Christ cannot be hidden. People have experienced the move of God in ways which cannot fit in more than a million books combined, lives have been transformed by the gospel of truth and nothing, not even the devil himself can stop the move of God. The Destiny Battle was won more than two thousand years ago.
Few Key Points to note about Destiny Battles:-
1.God has already deposited within us the inner power and Authority to face the battles.
Luke 10:19(AMPC)
Behold! I have given you authority and power to trample upon serpents and scorpions, and (physical and mental strength and ability) over all the power that the enemy (possesses); and nothing shall in any way harm you.
2.God has provided us with all the necessary weapons to face war:-
Prayer, Fasting, Praise, His word, The blood of Jesus, The name of Jesus and the power of our Testimony.
Revelation 12:11(KJV) .
And they overcame him by the blood of the Lamb, and by the word of their testimony; and they loved not their lives unto the death.
Ephesians 6:13(NKJV)
Therefore take up the whole armor of God, that you may be able to withstand in the evil day, and having done all, to stand.
2
Corinthians 10:4 (AMP)
The weapons of our warfare are not physical (weapons of flesh and blood) our weapons are divinely powerful for the destruction of fortresses.
3.We face battles from a place of victory.
1 Corinthians 15:57 (NKJV)
But thanks be to God, who gives us the victory through our Lord Jesus Christ.
1 John 5:4-5(AMP)
For everyone born of God is victorious and overcomes the world; and this is the victory that has conquered and overcome the world our (continuing, persistent) faith (in Jesus the Son of God). Who is the one who is victorious and overcomes the world? It is the one who believes and recognizes the fact that Jesus is the Son of God.
4.With God on our side we are the majority.
Romans 8:31 (NKJV)
What then shall we say to these things? If God is for us, who can be against us?
Romans 8:37(NKJV)
Yet in all these things we are more than conquerors through Him who loved us.
4, We don't face battles alone God is always with us.
Deuteronomy 20:4(NKJV)
For the Lord your God is He who goes with you, to fight for you against your enemies, to save you.'
Parting Shot:

As believers in the Body of Christ, we have a greater advantage by the fact we have the indwelling of the Holy Spirit, who is our helper to help us wage war from a position of victory.Whatever it is you are battling, fight until you win that battle for the sake of your next generation. That battle can be poverty, alcoholism, adultery, drug abuse, divorce, generational cycles, polygamy but refuse to pass on anything that you know will frustrate your lineage. God did not create you to exit, He created you to overcome, He created you to set new levels within your bloodline, He created you to reflect His glory and might in this Earthly realm for such a time as this.
Prayer.
Heavenly Father I thank you for the victory you have already guaranteed in this battle am currently facing. Holy Spirit, ignite within me new strength, new hope and courage to win this war. I choose to believe am not on this alone and am coming out of this war with my spoil that will span from generations to generations. I speak the blood of Jesus upon, my loved ones, my destiny, my purpose and my dreams. I decree and declare; I will bear fruit that will revolutionize everyone that I will come in contact with in the Mighty name of Jesus I do pray and believe Amen.
Few Things To Note:-
1.From 30th Oct 2019 to 8th December 2019 you are most welcomed at my home Church Jubilee Christian Church Parklands ,for powerful,life breathed and life transforming evening meetings dabbed 40 Days Of Glory.From 5pm every weekday..
2.Visit my online shop Beautiful Queens Couture and shop at great discounts.
Love ReinaBeaty.