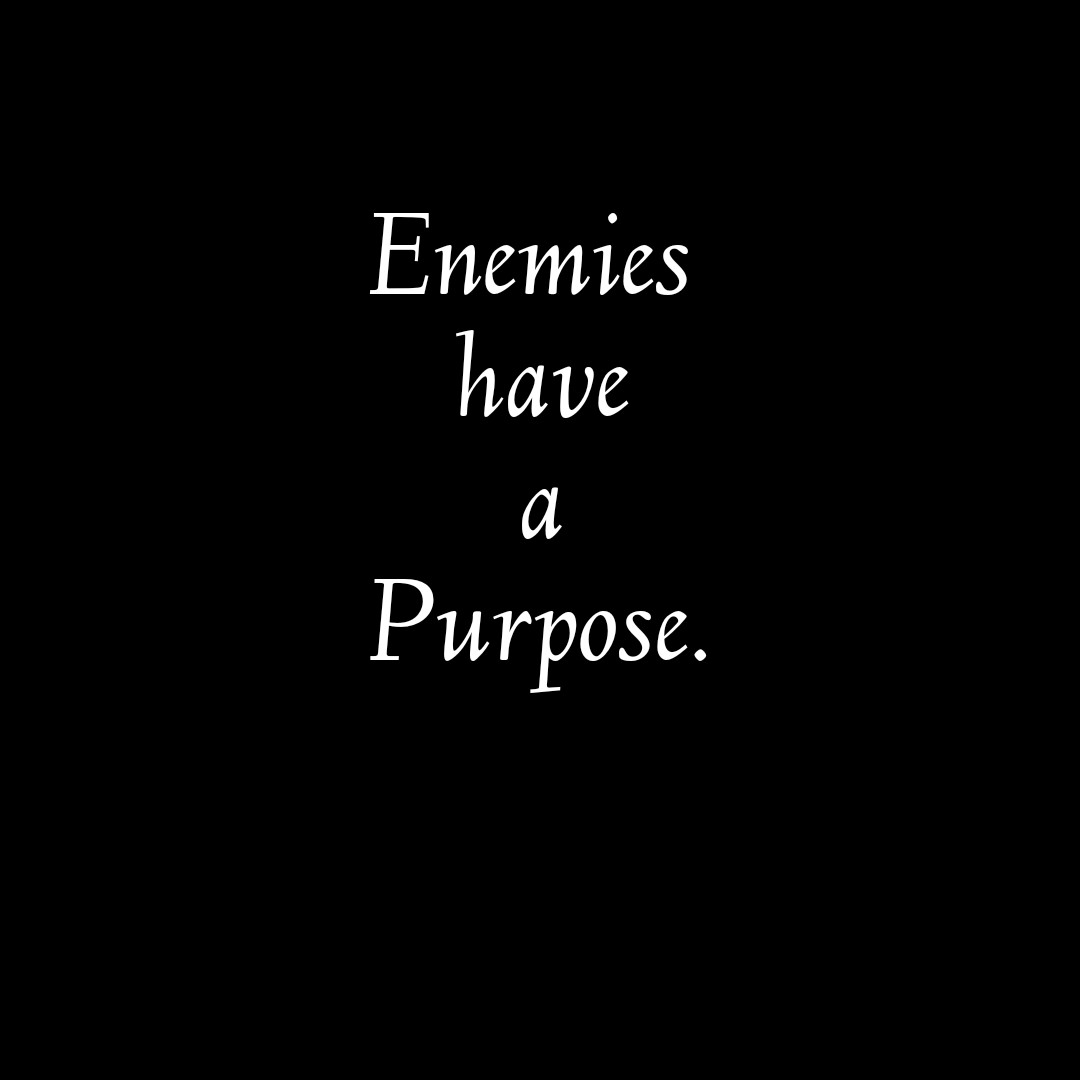 Good morning Beautiful people,do you know enemies have a purpose ?It's not that God created wicked people but some people have allowed their hearts to be contaminated with all forms of wickedness and end up intentionally acting out in wicked ways that hurt other people.

The human heart is the most deceitful of all things,

and desperately wicked.Who really knows how bad it is?

Jeremiah 17:9
However,it baffles me when people ask God to kill their enemies but how will He lay a table for you if you don't have enemies?
You didn't ask for them,you didn't just wake up and decided you want enemies but in one way or another, there are people who will choose to dislike you just because of a misunderstanding, for who you are, what you have ,what you do for a living, or just by the way you look or carry yourself.
Let's look at a spiritual truth in the Book of Nehemiah 4:1-9
But it so happened, when Sanballat heard that we were rebuilding the wall, that he was furious and very indignant, and mocked the Jews.

And he spoke before his brethren and the army of Samaria, and said, "What are these feeble Jews doing? Will they fortify themselves? Will they offer sacrifices? Will they complete it in a day? Will they revive the stones from the heaps of rubbish stones that are burned?"
Now Tobiah the Ammonite was beside him, and he said, "Whatever they build, if even a fox goes up on it, he will break down their stone wall." Hear, O our God, for we are despised; turn their reproach on their own heads, and give them as plunder to a land of captivity! Do not cover their iniquity, and do not let their sin be blotted out from before You; for they have provoked You to anger before the builders.
So we built the wall, and the entire wall was joined together up to half its height, for the people had a mind to work.

Now it happened, when Sanballat, Tobiah, the Arabs, the Ammonites, and the Ashdodites heard that the walls of Jerusalem were being restored and the gaps were beginning to be closed, that they became very angry,

and all of them conspired together to come and attack Jerusalem and create confusion.

Nevertheless we made our prayer to our God, and because of them we set a watch against them day and night.
Whenever you step out in faith and obedience to pursue a vision that is bigger than you ,you will always face opposition from people who see you as per where you are coming from,where you are and not where God is taking you.Sanballat ridiculed the Jews because he viewed them as per the ruins and not what they were capable of doing ,which was rebuilding the broken walls.
The opposition the Jews faced and the ridicule they faced from their enemies, was an opportunity in disguise:-
1.To reveal the power of God .
2.It acted as a reminder to the Jews that God was with them.
3.To encourage the Jews to believe in God and themselves again.
4.They discovered with God they were the majority.
5.It was an opportunity for the Jews to dig down deep within them and discover the power and the will to rebuild the wall ,was already within them not what their enemies said.
Without opposition, you will never mount up with wings like an eagle and you will never soar above your comfort zone.Oppositions will cause you to face mountains and do things you could not have done in a safe place.Oppositions will make you pray,you will stay at the feet of Jesus,your faith will be stretched and you will finally realize, those who offend or hurt you, act as an opportunity for God to take you higher.
Opposition was an opportunity for Nehemiah to finish his God given assignment strong and victoriously
Nehemiah 6:15-16
The wall was finished on the twenty fifth day of Elul. It had taken fifty two days.When all our enemies heard the news and all the surrounding nations saw it, our enemies totally lost their nerve. They new that God was behind this work.
Instead of allowing yourself to hate your enemies back, understand this, enemies can serve as a catalyst in exposing your weaknesses and challenging you to develop your strengths.Everything that you need to step into your destiny is already inside you.All you have to do is mine it,dig down deep and discover your thing.
Thank God for oppositions you receive from your enemies, they only reveal to you if you ever doubted yourself, how your future is great and bright.Actually, they are a gift to you in disguise since they are part of your training package.They will only push you beyond your limits and cause you to look up to God when you feel alone.
Matthew 26:14-16

Then one of the twelve, called Judas Iscariot, went to the chief priests

and said, "What are you willing to give me if I deliver Him to you?" And they counted out to him thirty pieces of silver.

So from that time he sought opportunity to betray Him.
Judas walked with Jesus,witnessed the move of God through Jesus in such a powerful way but still betrayed Jesus.Does it mean, all along Jesus never knew one of His disciples had a unique assignment to usher Him into His major assignment for mankind?Absolutely NO!!!
Take Note:-God has no plan to kill Judas. How would Judas know that God was on your side if he was in the grave? Pray that God will sustain Judas until the Judas who falsely accused you, maligned you and betrayed you sees you blessed.
It's your choice what your enemies will produce in your life and my question to you today, will they bring out the worst in you or the best in you??
Few things to note:-
1.There is an upcoming Phenomenal Ladies convention at my home church Jubilee Christian Church Parkland s , dubbed
DOZ CONVENTION 2019
from 27th August 2019 to 1st September 2019.To register kindly call
+254 719-777-222.
2..To visit my Online Shop
click here.
Love Reina Beaty.