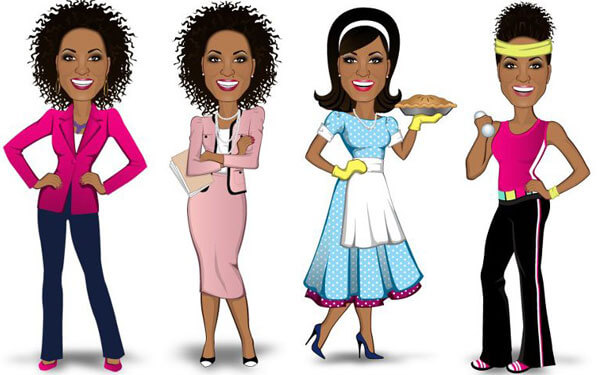 Hello Lovelies,
Everyone on the face of the earth it doesn't matter, whether they are celebrities, presidents, kings, princes, doctors, fishermen, pilots they all have flaws and imperfections. The most amazing thing is, God loves to use our weaknesses and He often acts in ways, which are the exact opposite of what we expect for His glory. I Am such a melancholic/Introvert and most of the time, I just like being alone and when it comes to accomplishing a task am such a perfectionist. People close to me tend to tell me to relax and allow things to flow but I just find myself going into details making sure things turn outright.
Being a perfectionist tends to be a weakness in me because nobody is perfect and I try to drive myself over the cliff, trying to make things perfect. I tend to get frustrated when I try to do something and it doesn't turn out the way I want, "Pheew" what a piece of work can I be at times?? But I have come to understand, only God has the capacity to work on my weakness and teach me how to be lenient with myself and others because no human being is perfect!!! In
2 Corinthians 12:8-10
God's word clearly states "And He said to me, "My grace is sufficient for you, for My strength is made perfect in weakness." Therefore most gladly I will rather boast in my infirmities, that the power of Christ may rest upon me.Therefore I take pleasure in infirmities, in reproaches, in needs, in persecutions, in distresses, for Christ's sake. For when I am weak, then I am strong.
The Bible is filled with examples of how God loves to use imperfect, ordinary people, to do extraordinary things in spite of their weaknesses.
If God only used perfect people nothing would ever get done because none of us is flawless.
In the book of
Judges 6

We have an amazing general that God used to save the children of Israel Despite God calling Gideon a mighty Man of Valor, he still identified himself as a weak man from a small clan and He could not see himself being used of God.

Vs. 6:15 So he said to Him, "O my Lord, how can I save Israel? Indeed my clan is the weakest in Manasseh, and I am the least in my father's house."
In Judges 7 due to Gideon's fear of the medianites and lack of confidence in himself, he recruits 32,000 men to go for war but God instructs Him to slash the people to 300 how incredible!!!
Vs.7:6-7 And the number of those who lapped, putting their hand to their mouth, was three hundred men; but all the rest of the people got down on their knees to drink water. Then the Lord said to Gideon, "By the three hundred men who lapped I will save you, and deliver the Midianites into your hand. Let all the other people go, every man to his place."
Gideon's limitation acted as a governor to keep him from running ahead of God.
When you think of the limitations in your life, you may be tempted to conclude
'
'God can never use me''
But God is never limited to your limitations as it was in Gideon's case. To all champions reading this blog, God desires to use you in such a profound way despite your weaknesses.
Do you know the things that you are most embarrassed about and most reluctant to share, are the very tools God can use most powerfully to heal others??
Some of you have some weaknesses which are beyond your control, others it's emotional weakness, spiritual weakness or physical weakness but don't allow that make you think, God, can't use you! God, Himself qualifies the unqualified, trust Him, embrace His love and watch how He will order your steps to greatness.
Take note:-People will always talk, be it you are doing what is right or doing what is wrong but you have to decide whether you want to impress people or influence people. You can impress people from a distance but you can only influence them by being honest and not pretending to be perfect.If all people see are your strengths, they will get discouraged and think ''well good for her I'll never be able to do that '"But when they see God using you in spite of your weaknesses, it encourages them to know God can still use them to.
Our weaknesses' help us to:-
To be content that God knows what is best for us
They help us not to be arrogant
They encourage us to have fellowship with other believers,as they show us how much we need each other.
2 Corinthians 12:9
And He said to me, "My grace is sufficient for you, for My strength is made perfect in weakness." Therefore most gladly I will rather boast in my infirmities, that the power of Christ may rest upon me.
Let's meet at the top!!!!
Sis!You Are Special In God's Eyes.