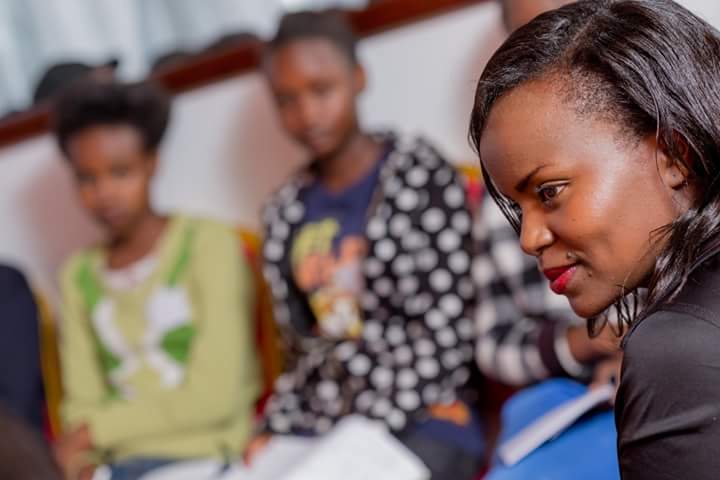 Last week on Wednesday, the world was celebrating a legend, who made such a huge impact in America, more than 40 years ago. This is none other than Martin Luther King Jr. Being an imperfect man with his own weaknesses, he had a dream and 40years later, most African Americans are reaping benefits from his dream.
Martin Luther's King Jr. dream back in the day, was just a dream which was far fetched from reality. However, as much as it was far-fetched from the reality, he believed in himself. Get the key words HE BELIEVED IN HIMSELF. Martin Luther King was an ordained minister of the gospel, who had a strong character to believe God's word and to put icing on the cake,
he also believed in himself.
It's one thing God to believe in you and it's totally a different ball game, when you are fully aware, God believes in you and you believe in yourself to.
People did not believe in Martin Luther king because of what he said alone but they believed his words by his actions. It's one thing to say you will do something and it's another thing to do what you say. Before He got assassinated in April 4th 1968 , he had gone through all manner of oppositions, false accusations, betrayals as well as, influence that had a positive impact in America till today.Martin Luther King Jr words and actions still prove today, he was fully aware God believed in him and he also believed in himself.
Using the above illustration from such a legend, am trying to paint a picture, on the importance of believing in yourself. Martin Luther King never lived to see the fruit of his labor but generations after him, are enjoying the fruits of his labor.
Despite of the segregation and lack of human rights towards the Africans Americans, he still believed that :-
1.One day on the red hills of Georgia the sons of former slaves and the sons of former slave owners will be able to sit down together at the table of brotherhood.
2.One day even the state of Mississippi, a state sweltering with the heat of injustice, sweltering with the heat of oppression, will be transformed into an oasis of freedom and justice.
3.One day my four little children will one day live in a nation where they will not be judged by the color of their skin but by the content of their character.
4.One day right down in Alabama little black boys and black girls will be able to join hands with little white boys and white girls as sisters and brothers.
5.One day every valley shall be exalted, every hill and mountain shall be made low, the rough places will be made plain, and the crooked places will be made straight, and the glory of the Lord shall be revealed, and all flesh shall see it together.
Today as I write this post, his dream is a reality in America today.
So what is your dream?? Are willing to pursue your dream despite oppositions, challenges or obstacles? Are you willing to believe in yourself and stay focused on your lane, until your dream starts bearing fruits?? Are you aware your decisions today, will affect generations either positively or negatively??Are you willing to pay the price of process or are you going to give up on it along the way??
Nobody wants to follow someone who does not believe in himself. You might not have much but as long as you have a dream and you are working towards it, people will end up believing in you, in one way or another. No one can truly follow your ideas, unless he believes in you personally.
Let's look at take the life of Joseph in Genesis Chapter 37 to 50, in relation to believing in your self.
1.He had a big dream which he was fully persuaded, it would come to pass in the future.Genesis 37:5-7 Now Joseph had a dream, and he told it to his brothers; and they hated him even more. So he said to them, "Please hear this dream which I have dreamed: There we were, binding sheaves in the field. Then behold, my sheaf arose and also stood upright; and indeed your sheaves stood all around and bowed down to my sheaf."You have to believe in your God given dream no matter how big it might seem, to your natural mind.
2.His dream intimidated his own brothers, who eventually got jealous of him. Genesis 37:8 And his brothers said to him, "Shall you indeed reign over us? Or shall you indeed have dominion over us?" So they hated him even more for his dreams and for his words.Your God given dream will rub some people off the bad way and they will try to fight it.
3.As he remained faithful, In an unfamiliar place, his dream opened doors for him.Genesis 39:2-4 The Lord was with Joseph, and he was a successful man; and he was in the house of his master the Egyptian. 3 And his master saw that the Lord was with him and that the Lord made all he did to prosper in his hand. 4 So Joseph found favor in his sight and served him. Then he made him overseer of his house, and all that he had he put under his authority. God will open doors for you, as you remain faithful in your place of assignment.
4.His hope in what God had revealed to Him in His dreams,influenced him to live a life that honors God and those in authority Genesis 39:7-9 And it came to pass after these things that his master's wife cast longing eyes on Joseph, and she said, "Lie with me. But he refused and said to his master's wife, "Look, my master does not know what is with me in the house, and he has committed all that he has to my hand. 9 There is no one greater in this house than I, nor has he kept back anything from me but you, because you are his wife. How then can I do this great wickedness, and sin against God?"Once God has revealed to you a dream, be prepared to live a life that will please him, despite temptations that might come along your path. Don't defile your anointing.
5.He went through persecutions, tests and trials in his own home, Potiphar's house and also in prison. Brace yourself for persecutions, tests and trials that will only act as a refining fire, for your next level.
6.God honored and promoted Joseph, in the most unlikely season. Genesis 41:37-41So the advice was good in the eyes of Pharaoh and in the eyes of all his servants. And Pharaoh said to his servants, "Can we find such a one as this, a man in whom is the Spirit of God?"Then Pharaoh said to Joseph, "Inasmuch as God has shown you all this, there is no one as discerning and wise as you.You shall be over my house, and all my people shall be ruled according to your word; only in regard to the throne will I be greater than you."And Pharaoh said to Joseph, "See, I have set you over all the land of Egypt."God will promote and honor you when you least expect.
7.Joseph had been exposed to leadership at Potiphar's house before he became a Prime Minister. God will only expose you to what he is preparing you to have. If God is exposing you to great things, great people, great opportunities, where you are required to serve. Be faithful and don't touch what does not belong to you,within no time, God will honor and elevate you Himself.
From the above points, one denominator that is common in the life of Joseph is, he believed in God, in himself, in his dream, he had standards and to crown it all, people who had an encounter with him, in a foreign land, believed in him.
Potiphar believed in his work, which he did from a place of integrity, even though he was falsely accused by Potiphar's wife later on.

The guards in the prison, believed in his character and they set him head over the rest of the prisoners.

The Butler and the baker believed in Joseph interpretation of dreams, since he believed in what he was doing.

God believed in him and this facilitated in Joseph believing in God and himself, to deliver the meaning of the kings dream which was accurate.
Whenever we believe in God and we are fully aware, God is backing us up, in what He has instructed us to do, people will end up believing in God and what God is doing through us.
Ways to make people believe in you:-
Believe in God

Believe in yourself.

Keep your word -if you can't deliver something, don't make vain promises.

Do the right thing even when nobdy is watching.That is integrity being molded into a lifestyle.

Make sacrifices towards your dream/vision.

Tell people what God told you: telling people what God told you, is a mighty step of faith. People want to follow God, so if you have heard from God, then they will want to follow you.

Share your personal experiences with God.

Be passionate about your dream/vision.

Be prayerful: -prayer generates spiritual authority.
Take Note:-If you don't work on your dream, thorns will grow around it and chock people from believing in your dream. Thorns like procrastination ,fear, lack of character, bad attitude, pride or laziness, will always derail you from moving to your next level .Stay focused on your God given dream and embrace the process until you bear fruit.
Love ReinaBeaty