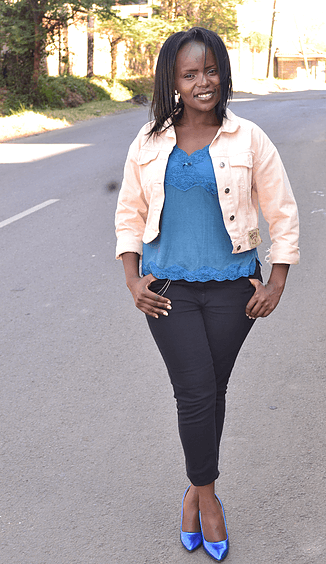 Expectations! Expectations! Expectations have you set unrealistic expectations for yourself or have people set unrealistic expectations that you are afraid of failing in life?? No sugar coating here, many times we have been in situations, where we don't want to let people whom we love down due to the expectations they have set on us. Unrealistic expectations can come in various forms, from family members, friends, colleagues and even you as an individual.
Sometime back, my friends whom we serve together in church as ushers were requested to serve at a high profile wedding. The who's and who's with big titles in the government and the cooperate sector , were attending the wedding. The organizers had set some expectations which were pretty out of this world but we took the challenge. I finally noticed, as we planned for the D-day through training and rehearsing over and over from the guest lists, to how we will do this and that as a team, we were so afraid of failure. We were afraid of not giving our best, afraid of not meeting our clients expectations and we simply didn't want to taint our name or let me say our brand.
I believe using the above illustration, am painting a picture of endless times; we are faced with situations in life, where expectations are high on the list. Your story might be different from my story. You might be facing a spouse, a boss, a family member or whoever it is that is making you so afraid of failure.
So, the D-day finally materialized and as usual, we prayed as a team and asked God to teach us on how to serve His people. During prayer, God convicted one of us and He asked us to focus on God and not on people's expectations. This was such a reprieve to us, we prayed towards that direction and trust me on this, God lifted the fear of failure, He anointed us with boldness, excellence and hospitality to serve in that event. The day went on well without pressure to perform, I mean God took over and we had such an amazing event.
Finally, I came to learn the day you will accept, you are imperfect, you will surrender your weaknesses to God and allow Him to take over. In 2 Corinthians 12:9-10 And He said to me, "My grace is sufficient for you, for My strength is made perfect in weakness." Therefore most gladly I will rather boast in my infirmities, that the power of Christ may rest upon me. Therefore I take pleasure in infirmities, in reproaches, in needs, in persecutions, in distresses, for Christ's sake. For when I am weak, then I am strong. Once you learn this truth, not only will you be free from unrealistic expectations and pressures set by men, you will end up doing what you are supposed to do in line with God's will effortlessly .reason being, you are relying on God 101%.
Stop counting what you have done or what you are expected to do and trust God, He will get you where you are supposed to go ,you will do what you are supposed to do and you will achieve what you are supposed to achieve in line with His will over your life. You are a child of the most High God and you have been permitted in His undiluted truth in
Romans 8:15
For you did not receive the spirit of bondage again to fear, but you received the Spirit of adoption by whom we cry out, "Abba, Father."
Fear of failure can also be birthed from a place of competition and comparison. Comparing yourself with others, on how they do what they do to succeed in life, might tempt you to be afraid of failing. Don't get me wrong on this, learning from someone whose marriage, business, career path or ministry is working, is not wrong but you getting to a point of comparing your chapter two to someone else chapter ten, is where we all get it wrong. We think because things ain't happening in our chapter two, we are missing out on something hence fear occupies our hearts and we end up being so afraid of failure. You can read one of my blog post Water Your Own Grass I have divulged more on the dangers of comparison and coveting what other people have.
Unrealistic expectations from men, will not only taint your focus on God, in showing you how to complete an assignment but will steal your identity and destiny. Let's come back to a reality check here, are you more concerned with your reputation with men here on Earth, or are you concerned with your reputation with God? Fear of failure can lead us to a point of being too concerned on what people, will say or think about us, if we don't perform as per their expectations than depending on what God will say or think about us. In 1 Samuel 13:10-14 Just as Saul was finishing with the burnt offering, Samuel arrived. Saul went out to meet and welcome him, but Samuel said, "What is this you have done?"Saul replied, "I saw my men scattering from me, and you didn't arrive when you said you would, and the Philistines are at Micmash ready for battle. So I said, 'The Philistines are ready to march against us at Gilgal, and I haven't even asked for the Lord's help!' So I felt compelled to offer the burnt offering myself before you came." "How foolish!" Samuel exclaimed. "You have not kept the command the Lord your God gave you. Had you kept it, the Lord would have established your kingdom over Israel forever. But now your kingdom must end, for the Lord has sought out a man after his own heart. The Lord has already appointed him to be the leader of his people, because you have not kept the Lord's command."
From the above context,King Saul was appointed and anointed by God Himself, yet He was afraid of failing His people and went ahead and disobeyed God's command. No matter the expectations, you have set for yourself or people have set for you, if they are leading you to walk in fear, anxiety, worry, insecurity or disobedience, you are in real sense not pleasing God, actually He is out of that equation.
Dangers of Fear of failure:-
You end up becoming an approval addict:-
Out of fear of failure, you end up becoming an approval addict in order to attain approval from men by trying to meet their unrealistic expectations to please them than God.
You walk by sight and not by faith:-
You fail to rely on God by walking in faith and you focus on your current situation which suggests you must do this or that, yet God has not called you to a life failure.
You have a tainted focus:-
Your focus is tainted on men's expectations than focusing on God's expectations over your life.
You walk in Disobedience:-
No matter the expectations you have set for yourself or people have set for you, doing things to please men than God , you are walking in total disobedience.
5.You Lose Your Real Identity:-
Living a life where you are busy pursuing unrealistic expectations from men, will hinder you from walking in your authentic self. You get to do things which are not you.
6.You live a life of comparison and competition:-
Take Note:-We all have to do what we are expected to do, be it at home,work or ministry however, no matter the expectations you have set for yourself or people have set for you. If they are leading you to walk in fear, anxiety, worry, insecurity or disobedience, you are in real sense not pleasing God, actually He is out of that equation.We are imperfect living in an imperfect world , we will make mistakes once in a while but walking in fear from failing is not of God.
Failure is mean't to REFINE you and not DEFINE you
God Desires The Best For You