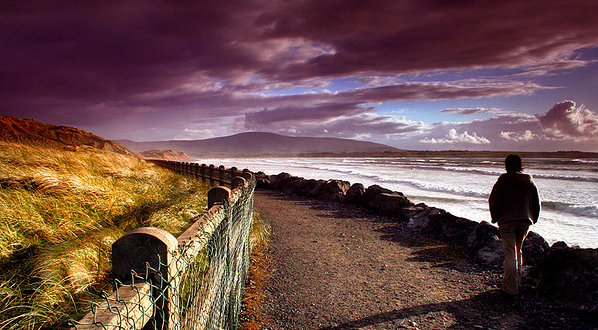 In life we will make choices to walk with particular people whom we perceive we can trust, we can be vulnerable with, we can fellowship with and we have the same values geared towards a common goal. Let's take a look at a husband and a wife whose marriage is purpose driven. Beyond the love they have towards each other to spend the rest of their lives together, they make a commitment to walk together, build together and grow together from a foundation of love, trust, friendship and vision.
So, when you walk with someone you are on the same path going in the same direction. Usually, you are in close proximity to one another. You talk, you listen, you share your ideas and your attention is focused on the person you have made a choice to walk with.
Walking with God is similar. To walk with God means that you and God agree. You are on the same path; you are on the same page and going the same direction. Amos 3:3 says, "Can two walk together, unless they are agreed?" Walking with God means my will is submissive to His Will.
You don't have to be perfect to walk with God, but your heart's desire has to be pleasing to God and your willingness to follow His Word has to be paramount.
Micah 6:8 gives us a glimpse into God's desire for every person, He has shown you, O man, what is good; And what does the Lord require of you But to do justly, to love mercy, and to walk humbly with your God? Walking with God is what God wants for all of us.
Walking with God is a LIFESTYLE! It means we choose to glorify God with our lives, it means that we walk by faith, it means that we are walking in the Spirit by setting our minds on things above 'Colossians 3:2' and walking with God means that His Word lights our path and our feet. 'Psalms 119:105'.
There are several people who have been described as "walking with God" in the Bible:
Enoch – Genesis 5:22 – "Enoch walked with God after he fathered Methuselah 300 years and had other sons and daughters." Genesis 5:24 – "Enoch walked with God, and he was not, for God took him."
Noah – Genesis 6:9 – "This is the account of Noah and his family. Noah was a righteous man, blameless among the people of his time, and he walked faithfully with God."
Abraham – Genesis 17:1 – "When Abram was ninety-nine years old, the LORD appeared to him and said, "I am God Almighty; walk before Me and be blameless. I will confirm my covenant between me and you and will greatly increase your numbers."
The Bible says twice that Enoch walked with God and it's my prayer, that our walk with God will not only will be a personal journey but a public display that reflects the nature and the character of Christ. Just like Noah! walk with God unashamedly , walk with God because of your eternal destiny, walk with God because you love Him and above all, walk with God because He loves you unconditionally.
Love ReinaBeaty