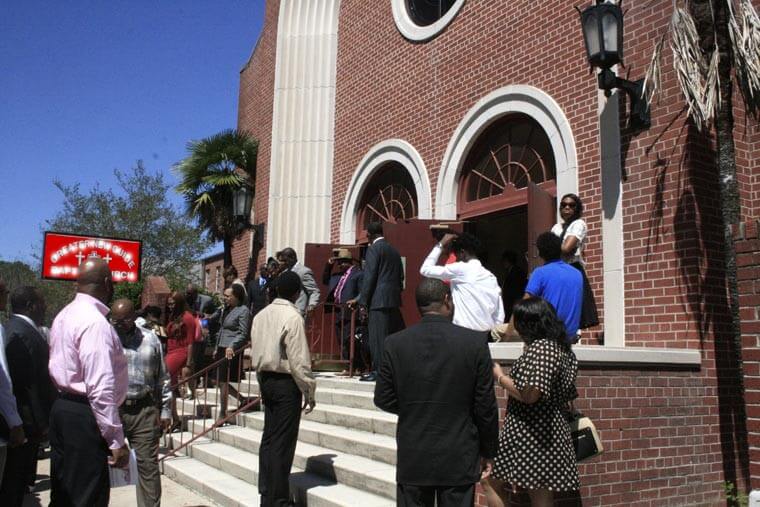 "The service was off the hook, I mean the praise and worship was phenominal" Such conversations are very common after a Sunday service while catching up with brethren in Christ.. After a powerful sermon we get so excited and we all look forward to things changing in our lives at the blink of an eye, once we set our feet outside the four walls of the church. That rarely happens unless God performs an urgent miracle in your situation, most of the time God sows His seed in us through His word by the preaching of the gospel and expects us to nurture this seed to maturity, where it bares fruit to turn around any situation that does reflect Him in our lives.
In
Mark 4:26-29

Jesus also said, "The Kingdom of God is like a farmer who scatters seed on the ground. Night and day, while he's asleep or awake, the seed sprouts and grows, but he does not understand how it happens. The earth produces the crops on its own. First a leaf blade pushes through, then the heads of wheat are formed, and finally the grain ripens. And as soon as the grain is ready, the farmer comes and harvests it with a sickle, for the harvest time has come." One thing I have come to realize in my walk with God is, the word we receive on a Sunday service acts as a seed. Let's look from this perceptive to make this point more clear, when a farmer ploughs and sows seed in his field, he rarely sees what happens to the seed beneath the ground.
The farmer waits patiently for the seed to germinate, depending on which crop he has planted. Once the seeds germinate into small crops, he does not sit around and waits for a bumper harvest!! He has to water them,weed out all weeds to make sure his crops are healthy, and he also has to trim them by cutting away dead or overgrown branches or stems to increase fruitfulness and growth. Once he has done all that in stages, if it was a coffee a plantation, he is rest assured of a bumper harvest.
Using the above illustration that seed which was sown in your heart through a sermon that your Pastor bisected God's word,until it became rhema word, has to go through a process to maturity. What do I mean a process to maturity??Come Monday, you have to water that seed, get your face on God and study over and over His word, until it becomes your food which nourishes you and you have no choice than to believe, act and speak what it says. You will not see that seed germinating with immediate effect but with time, the spiritual realm which is active with your faith confessions and your actions which are fueled from a heart of obeying God, will start aligning every situation in the natural realm to reflect your growth and productivity. Out of my obedience to blog what God instructs me to blog, am scattering seeds with uttermost faith they will fall on fertile ground(Heart) and bear fruit in someone's life..
As you begin to grow in the knowledge and likeness of Christ, He will have to weed out weeds. Weeds always chock the development of any crop; they are unwanted plants that surround your crops which compete for nutrients intended for your crop .Weeds in this case can be in form of fear, doubt, bad habits, jealousy, malice or negative thinking. As you spend time with Him, He will convict you on what you need to work on, what you will have to let go and your obedience to His daily convictions, will make you more productive and effective for His kingdom Agenda over your life.
God is not yet done with you as you nurture that seed He planted within you, after He weeds out anything that does not represent Him in your life, He will go ahead and trim you. As i said earlier, Trimming is a process of cutting away dead or overgrown branches or stems to increase fruitfulness and growth. When you are growing in Him, there are character and attitude issues, He has to work on, in your walk with Him. Yes, you trusted Him for that Job, that promotion, that spouse, that business, those lovely kids or that ministry and all you ever desired, is finally falling into place but along the way, comfort creeps in, pride, arrogance or a self-righteous attitude starts taking root in your heart.
Out of His loving nature, God Himself will trim off anything that does not represent him through seasons of real tests, to kick out foolishness and mature you. Your submissiveness and willingness on God to trim off anything that does not present Him, makes you a an honorable city on Hill
Matthew 5:14-16
You are the light of the world—like a city on a hilltop that cannot be hidden. No one lights a lamp and then puts it under a basket. Instead, a lamp is placed on a stand, where it gives light to everyone in the house
. In the same way, let your good deeds shine out for all to see, so that everyone will praise your heavenly Father.
Trust me on this, God is a God of purpose. You may not always understand His purpose but you can be sure He definitely has one. He will weed out and trim you, to show His glory by working something good out of you. Out of God's integrity which is His nature, He will make sure you prosper and be a blessing than those who are after micro-wave results, who use short cuts and compromise their character to have their way. Honey! if you desire a life that honors God, His word clearly states in Proverbs 22:1 A good name is to be chosen rather than great riches, Loving favor rather than silver and gold.
That seed might not bear fruit immediately, that open door or breakthrough might not be tomorrow but as you allow that seed to grow, God will facilitate a bumper harvest which cannot be ignored at His perfect time.
Take Note:- No blessing guarantees we have arrived.Every day presents an opportunity to learn,grow in Christ.reflect Christ and when things are not flowing the way we had planned out,we should not allow a state of feeling upset about where we are now while we are making positive progress
PRAYER:-
Dear Lord I thank you so much for your incorruptible word, which has the power to transform and change any tough situation. How I pray, you will teach us on how to receive your word and nurture it to maturity. Help us to learn and be obedient to your instructions and walk in faith on a daily basis to be fruitful.In Jesus Mighty Name Amen!Amen!Amen.
God Desires The Very Best For You