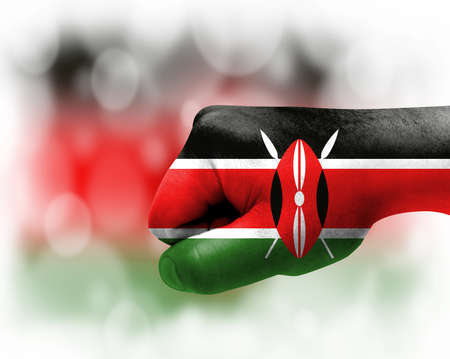 To my fellow Kenyans, what an incredible hour we live in. It is no exaggeration to say that the Church is now the last ray of hope for a Nation that has a powerful prophetic destiny. The Word of God has already gone ahead of us and many prophets have prophesied into the womb of this Nation and the prophetic Word still stands-Kenya is a Spring Board of Revival to the Nations. From a very a young age, I heard of this prophetic word many times but I did not have the capacity to understand the magnitude it held back then. But now! the Prophetic Word is so real to me and it fires up my inner man to believe more than ever before, that this is the time the Church in Kenya has to arise and determine the next leaders of this Nation. Leaders who will partner with God and be a channel in spearheading the prophetic Word of this Nation into it's divine manifestation.
We need to be aware that, top-notch leadership of any Nation, will always determine how the move of God will be in that particular Nation or how wickedness will spew. Psalm 33:12 Blessed (fortunate, prosperous, and favored by God) is the nation whose God is the Lord, the people whom He has chosen as His own inheritance. Leaders play a major role in determining the spiritual gates of any nation. While reading the Autobiography of Evangelist Reinhard Bonnke Living a Life of Fire, I read how some nations had locked their doors to the gospel and they could not give Evangelist Reinhard Bonnke access to hold crusades in those nations. I remember reading some instances where he was once arrested and his passport confiscated and another one when his team was locked out of Nigeria, for over nine years from stepping their feet for their evangelistic missions. But all this was happening due to National leaders who were ruling those particular nations at that time and were opposed to the gospel of Christ.
For instance, when a God-fearing President was elected into office in Nigeria Olusegun Obasanjo, the doors of revival opened and there was such a great out pouring of the move of God. Evangelist Reinhard Bonnkee was able to return to Nigeria for mega Crusades and guess what? Millions of people got to hear the gospel of Jesus Christ and gave their lives to Him. How wonderful and precious it is to always have leaders who fear God, since the fear of God is the beginning of wisdom. I know we are not in such a state as a Nation but we cannot be ignorant either when the Prophetic Destiny of this Nation is beckoning at us to arise, repent and pray for Kenya.
This is not the time to get into flimsy, non-profitable dirty politics discussions with people in our place of assignment, this will only act as a weapon to distract us from our main mandate in enforcing the Will of God over Kenya. I know Satan has no power to destroy the Body of Christ in Kenya but he is very strategic in using distractions to detour and making the army loose it's focus. But I decree and declare, we shall not get distracted by his wiles in the Name of Jesus.
So, how do we engage in enforcing God's divine destiny for Kenya?
Give thanks for what God has already done for this Nation, what He is doing and what He will do.

Repent for the sins of our leaders, for Kenyan citizens, for faulty foundations, for wrong gate keepers and wrong covenants which have been made on behalf of this nation.

Use the weapons God has given us in His Word and wage war for the Destiny of this Nation. For the weapons of our warfare are not physical [weapons of flesh and blood], but they are mighty before God for the overthrow and destruction of strongholds. 2 Corinthians 10:4.

Prophecy the promises and blessings of God upon this Nation.

Refuse to fear and getting intimidated by what you are currently hearing and seeing in the media or from people around you in regards to this Nation. Stand your ground on what God says about this Nation and what He desires to do through Kenya.
Please hear me out my beloved, when it comes to the prophetic Destiny of a Nation, it's not about leaders with money, popularity, power or tribe, it's all about being sensitive to the Holy Spirit and understand the times we are in as Sons of Issachar, who had analyzed their times and had perceived correctly what those times were all about. They knew what to do because they understood what was happening. 1 Chronicles 12:32-From the tribe of Issachar, there were 200 leaders of the tribe with their relatives. All these men understood the signs of the times and knew the best course for Israel to take.
This is our time to rule Kenya on our knees and watch God put leaders who fear Him, who have servant leadership hearts and will be an atmosphere of godly spiritual leaders at the gates of this Nation. We can't afford to delay the prophetic destiny of this Nation by settling for any leader and we can't afford to experience any form of violence at our watch.
Love Reina Beaty.