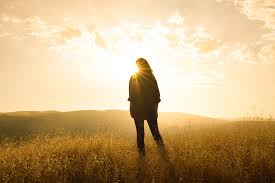 Exodus 13:17
Then it came to pass, when Pharaoh had let the people go, that God did not lead them by way of the land of the Philistines, although that was near; for God said, "Lest perhaps the people change their minds when they see war, and return to Egypt."
There was a time I posted on my social handles that we have to kiss our comfort zone goodbye. I recall speaking to my inner self of how it's been a minute since I did something outside my normal routine, to challenge myself but honestly! This particular word had not yet been tested for quite some time. I really wanted to step out in faith and do some stuff for Jesus as His Spirit would lead me, but I didn't know the test was just around the corner. So, within a few days I was assigned an assignment at my home Church by one of our departmental Leaders but honestly speaking! I didn't want to take up the task. I tried to dodge the whole issue and it dawned on me, I was trying to stay safe but I was not growing at a particular area in my life.
So, I took up the task but little did I know, the challenges that would come with the assignment. Trust me when I tell you, the challenges were well packaged. Packaged in a way that I was surprised at how God can use certain scenarios just to check out your level of maturity, to handle higher levels of responsibility. Wooo, I went through pressure until I felt like calling my leader for a small meeting to speak out my mind. I was done and personally! I hate drama and all I wanted was to go back to my comfort zone and let things flow as they used to, in regards to this particular area.
However, this was not so, for a whole week I really battled with the idea of calling it quits until I came across the above Scripture Exodus 13: 17. Many times during our communion with God we worship Him and tell Him we surrendered to Him, we are yielded to Him and we want Him to speak to us for direction. But how many times do we get ourselves being led to do one thing but the flesh is like no,no,no I can't handle that. So, this Scripture for me was God literally speaking to me on a personal level. I wanted to hear God's direction and He was like, "My daughter! Embrace my process, you can't afford to go back to where you are coming from, let me mold you to grow for the next level". Those Words from the Holy Spirit, were the most refreshing to my soul, my mind and spirit to hold on and not call it quits.
Using one of my real-life experiences since they are many, I know most of us have faced different challenges in life that we literally felt like giving up and slipping back to our former positions, our former lifestyles, habits and mindsets, which are tactics of the enemy to derail us from maximizing our potential.
The devil is never scared of your success, he is terrified by your potential.
So, let's dig into Exodus 13:17, we learn that God's intention was very clear on delivering the children of Israel out of captivity but He knew they didn't have the capacity to handle any war at that particular time. Passing through the land of the Philistines was the shortest route to get to the promised land but the people who dwelt in this land, were trained warriors and the Jews had not been trained on how to war, they were just freed slaves. They didn't have the mental capability to handle any form of war and God knew for sure, exposing them to war at this particular season will only jeopardize His agenda since He knew they would literally go back to Egypt. It's no wonder, even after crossing the Red sea and some leaders spying out the promised land in Numbers 13 there mind sets still struggled to be ushered into the new in Numbers 14:2-4 All the Israelites grumbled against Moses and Aaron, and the whole assembly said to them, "If only we had died in Egypt! Or in this wilderness! 3 Why is the Lord bringing us to this land only to let us fall by the sword? Our wives and children will be taken as plunder. Wouldn't it be better for us to go back to Egypt?" 4 And they said to each other, "We should choose a leader and go back to Egypt."
God was very particular with the destiny of the children of Israel since He had established a covenant with Abraham their Father of Faith. He was so intentional and spent forty years refining them to become more than warriors. One thing we need to know is, God is a covenant making and covenant keeping God, He sees the end of a matter before the beginning of that matter. What He says He will do through you and through your lineage as per the Integrity of His Word, He will establish what He said but we have to be willing to go through the refining process to bring out the hidden treasures in us.
Most of the times we are usually not enlarged during good times but during tough times. The wilderness season was the perfect season for God to mold the children of Israel into great warriors, who operated in the mysteries of God that surprised other nations, in order for them to occupy the promised land.
That tough season in your life is not your final destination, seasons do change but are you willing to mature to handle the next season of your life? Are you willing to learn what God wants you to learn in order to handle the bigger giants in your next assignment? Are you willing to operate in the power of God in the midst of that bad medical report? Are you willing to hold onto God's promises in spite of nothing making sense at this particular dry season in your life?
Joseph in Genesis 39 had the option of His compromising His integrity at Potiphar's house, he had the option to take vengeance against his brothers in Genesis 50 but God had already dealt with his heart, through a painful process. He passed the test of offense, the test of pride, the test of lust of the flesh, the test of patience and the test of rejection. At times the ways of God puzzle me when it comes to personalized dealings and destiny matters, He can use major pain to make major people.
God has not brought you till this far to leave you! He only wants to reveal to you who He really is as a loving Father,His works as a Mighty God and His power that is resident within you which ought to be active. F

or it is God who works in you to will and to act in order to fulfill his

good purpose.

Philippians 2:13
God will never allow us to go through a tough season that He has not yet graced us to handle. I mean, He is a wonderful Father who knows what we can handle and He wants us to stretch our faith in Him to trust Him in His unlimited ability for His power at work in us can do far more than we dare ask or imagine. Ephesians 3:20.
Don't mistake a dry season in your life for your final destination. Seasons change.
At times God will have personal dealings with us in regards to our destinies, just like it was the case with the children of Israel. You having a great destiny, only means your process for refining shall be more intense than some people. With this revelation inclined in your mind, you will be able to stand on the promises of God despite the challenges you will face along the way. God is more interested in growing and maturing us than just meeting a need. Embrace the growing process because He is doing a good work in you.
Love Reinabeaty.