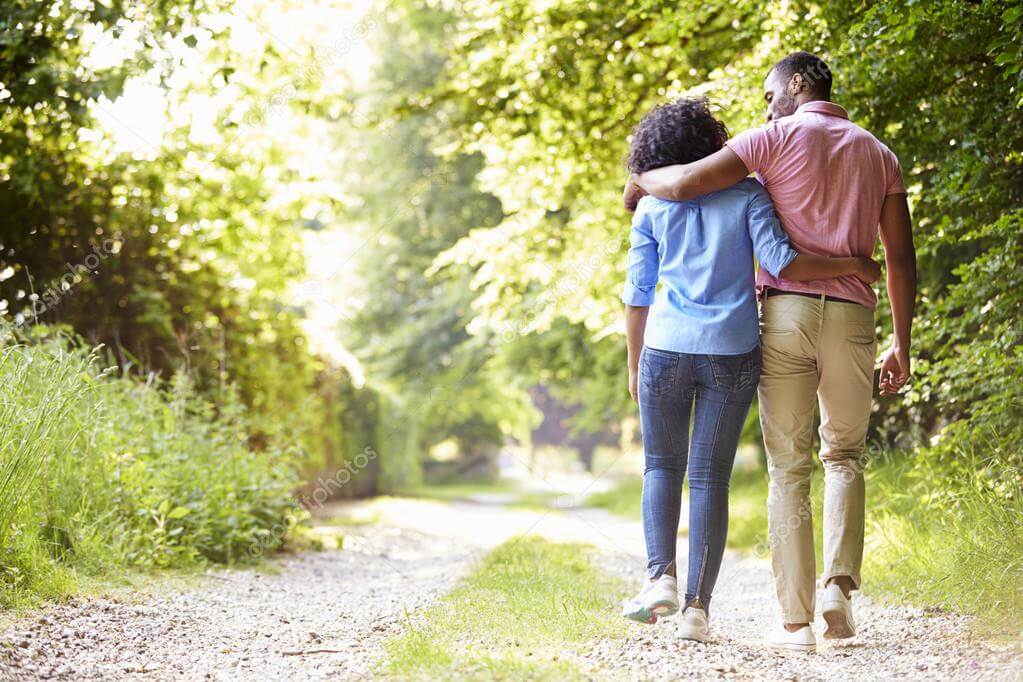 Marriage is an institution authored by God Himself and He desires us to have full knowledge on how to enjoy it through His word.For those who are married and those who desire to get married in the near future, i will share simple Biblical guidelines on how to have a happy marriage God's way. It's my prayer for those who are yet to walk down the aisle, to take these points keenly since you will really need them once you settle down in marriage.
Establish your own private home: once you decide to settle down as a couple, get your own private home to start a family together. You can rent an apartment or you can start saving for a home early during courtship.
Genesis 2:24
Therefore a man shall leave his father and mother and be joined to his wife, and they shall become one flesh.
Continue in courtship: – Marriage is not the end of courtship but a continuation of courtship .Make it your priority to love, care and appreciate your spouse while in your journey of marriage. Do not take more out of your marriage than you put into it,
1 Peter 4:8
And above all things have fervent love for one another, for "love will cover a multitude of sins
1 Corinthians 7:34
There is a difference between a wife and a virgin. The unmarried woman cares about the things of the Lord, that she may be holy both in body and in spirit. But she who is married cares about the things of the world how she may please her husband.
Always keep in mind that God joined you together in marriage :-Your family Members or friends are not the ones who joined you together, so in case of any problems in your marriage first seek God who brought you together to be one.
Matthew 19:4-6
And He answered and said to them, "Have you not read that He who made them at the beginning 'made them male and female,' and said, 'For this reason a man shall leave his father and mother and be joined to his wife, and the two shall become one flesh'? So then, they are no longer two but one flesh. Therefore what God has joined together, let not man separate."
Always guard your thoughts:– Avoid at all cost exposing yourself to anything that suggests impurity which will taint your view on marriage (phonography). Having uncontrolled thoughts is like an automobile in neutral on a hill, anything can happen and the results are disastrous.
Proverbs 4:23
Keep your heart with all diligence, For out of it spring the issues of life.
Philippians 4:8
Finally, brethren, whatever things are true, whatever things are noble, whatever things are just, whatever things are pure, whatever things are lovely, whatever things are of good report, if there is any virtue and if there is anything praiseworthy—meditate on these things.
Romans 6:12-13
Do not let sin control the way you live;do not give in to sinful desires.Do not let any part of your body become an instrument of evil to serve sin. Instead, give yourselves completely to God, for you were dead, but now you have new life. So use your whole body as an instrument to do what is right for the glory of God
Never retire for the night angry at each other.
Ephesians 4:26-27
And "don't sin by letting anger control you."Don't let the sun go down while you are still angry, for anger gives a foothold to the devil.
Philippians 3:13
Brethren, I do not count myself to have apprehended; but one thing I do, forgetting those things which are behind and reaching forward to those things which are ahead.
Allow Jesus Christ to be the foundation and leader of your home:-
Psalms 127:1
Unless the Lord builds a house, the work of the builders is wasted, unless the Lord protects a city, guarding it with sentries will do no good.
Proverbs 3:6
Seek his will in all you do,and he will show you which path to take.
Pray together:-
Matthew 26:41
Keep watch and pray, so that you will not give in to temptation. For the spirit is willing, but the body is weak!"
Matthew 18:19
I also tell you this: If two of you agree here on earth concerning anything you ask, my Father in heaven will do it for you.
1 Peter 3:7
Husbands, likewise, dwell with them with understanding, giving honor to the wife, as to the weaker vessel, and as being heirs together of the grace of life, that your prayers may not be hindered.
Agree to fight together as a couple and not against each other
Romans 14:19
Therefore let us pursue the things which make for peace and the things by which one may edify another.
Colossians 3:13-14
Make allowance for each other's faults, and forgive anyone who offends you. Remember, the Lord forgave you, so you must forgive others. Above all, clothe yourselves with love, which binds us all together in perfect harmony.
Tell no jokes at the expense of your spouse's feelings:- Respect and value your spouse
Romans 12:10
Love each other with genuine affection, and take delight in honoring each other.
Keep in mind criticism and nagging destroys love.
Colossians 3:19
Husbands, love your wives and never treat them harshly.
Proverbs 21:19
It's better to live alone in the desert than with a quarrelsome, complaining wife.
1 Corinthians 13:4
Love is patient and kind. Love is not jealous or boastful or proud.
Proverbs 27:15
A quarrelsome wife is as annoying as constant dripping on a rainy day.
Learn the language of appreciating each other :Don't take your spouse for granted always look for simple ways to appreciate them
1 Thessalonians 5:18
Be thankful in all circumstances, for this is God's will for you who belong to Christ Jesus.
Be Faithful to each other
Hebrews 13:4
Give honor to marriage, and remain faithful to one another in marriage. God will surely judge people who are immoral and those who commit adultery.
1 Corinthians 7:3-5
The husband should fulfill his wife's sexual needs, and the wife should fulfill her husband's needs. The wife gives authority over her body to her husband, and the husband gives authority over his body to his wife.Do not deprive each other of sexual relations, unless you both agree to refrain from sexual intimacy for a limited time so you can give yourselves more completely to prayer. Afterward, you should come together again so that Satan won't be able to tempt you because of your lack of self-control.
Do not overdo anything, be temperate. Spend less time trying to figure out your spouse and more time trying to please her or him.
Romans 12:10
Love each other with genuine affection and take delight in honoring each other.
Learn to forgive and forget: No amount of recording keeping of wrongs will solve your marital problems extend forgiveness just like God does on a daily ais and not only does He forh=give He forgets.
1 Corinthians 13:4-7
Love is patient and kind. Love is not jealous or boastful or proud 5 or rude. It does not demand its own way. It is not irritable, and it keeps no record of being wronged. 6 It does not rejoice about injustice but rejoices whenever the truth wins out. 7 Love never gives up, never loses faith, is always hopeful, and endures through every circumstance.
Be clean, modest, orderly and dutiful.:- Laziness, disorder, untidiness are the devil's weapons to destroy your respect and affection for one another. The home should alwys be clean and orderly because this brings peace calmness and satisfaction to all.
Proverbs 31:13-15
She finds wool and flax and busily spins it. She is like a merchant's ship, bringing her food from afar. She gets up before dawn to prepare breakfast for her household and plan the day's work for her servant girls.
1 Corinthians 14:40
But be sure that everything is done properly and in order.
1 Timothy 5:8
But those who won't care for their relatives, especially those in their own household, have denied the true faith. Such people are worse than unbelievers.
Be determined to speak respectfully and kindly to each other
Proverbs 15:1
A gentle answer deflects anger but harsh words make tempers flare.
Ecclesiastes 9:9
Live happily with the woman you love through all the meaningless days of life that God has given you under the sun. The wife God gives you is your reward for all your earthly toil.
Be responsible in money matters
Proverbs 13:11
Wealth from get-rich-quick schemes quickly disappears; wealth from hard work grows over time.
Proverbs 10:4
Lazy people are soon poor; hard workers get rich.
Ecclesiastes 7:12
Wisdom and money can get you almost anything,but only wisdom can save your life.
Luke 14:28
"But don't begin until you count the cost. For who would begin construction of a building without first calculating the cost to see if there is enough money to finish it?
Talk things over and counsel together freely
Proverbs 15:32
If you reject discipline, you only harm yourself; but if you listen to correction, you grow in understanding.
Love You All