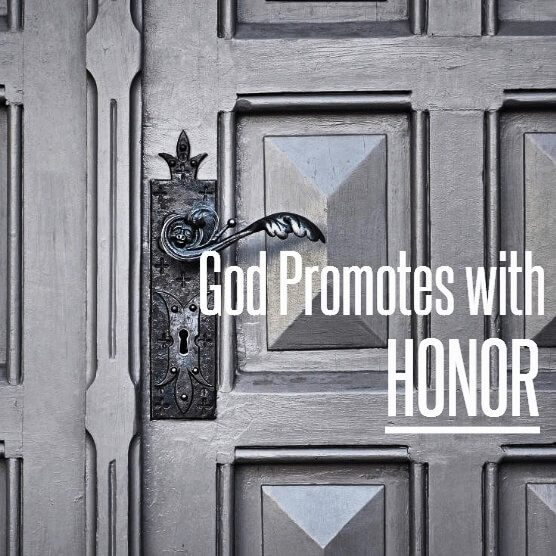 Be it in school, in your career path, in your community, in your gifts, in your place of assignment or ministry, everybody likes the whole idea of being elevated to the next level. Most people don't like stagnating in life, I mean everybody appreciates growth, right! We all want to be productive, to advance and be effective in life but no matter how much we desire advancement in life, how we get there matters to God who is our creator.
Let's look from this perspective, if you desire a strong building that would last for ages, you will have to invest in the best construction materials, qualified architects, good workmanship, which will bring your dream to a reality and patience to allow that process. Nothing good, nothing long-lasting and nothing of great honor will ever be birthed from shoddy procedures; we have to allow time and process.
God also works in amazing ways to promote and honor those who trust in Him just like any builder, who is after lasting results. He often instructs us through His Word to do what is foolish to the world, in order to do what is extraordinary for Him here on Earth. In 1 Corinthians 1:27 Instead, God chose things the world considers foolish in order to shame those who think they are wise. And he chose things that are powerless to shame those who are powerful.
The world will not understand why you are stepping out in faith, it will not understand why you can't compromise your standards to fit in, it will not understand your obedience to why you are doing what you do, faithfully and diligently but those are the few things that God is watching at His throne of Grace. He wants you to build a strong foundation of your entire life, destiny, and purpose on Him and not on things that will fade away with time. In
Matthew 7:24-27
So everyone who hears these words of Mine and acts on them, will be like a wise man (a far-sighted, practical, and sensible man) who built his house on the rock. And the rain fell, and the floods and torrents came, and the winds blew and slammed against that house; yet it did not fall, because it had been founded on the rock.And everyone who hears these words of Mine and does not do them, will be like a foolish (stupid) man who built his house on the sand. And the rain fell, and the floods and torrents came, and the winds blew and slammed against that house; and it fell and great and complete was its fall."
I believe most of us in our pursuit for progress, advancement, and productivity in life, we have experienced seasons where we have felt overlooked and forgotten. No matter where you are now, don't get into a state of going ahead of God by building your entire foundation on sinking sand. Building your life on sinking sand, is building your trust and hopes on things and ways of this world, in order to achieve what you desire. It's in these critical moments in our lives and careers that it's important to remember, God holds the keys to our future and He never forgets us.
God clearly states in
Psalm 75:6-7
For exaltation comes neither from the east, nor from the west nor from the south But God is the Judge: He puts down one, and exalts another.
If it's God who promotes us, we can rest being confident that we are in the right place in trusting Him and doing what He has instructed us to do. That's why it's paramount to stay in the right place until He promotes you to the next level. If you are busy jumping from one job to another, from one church to another, from one business venture to another, or from one relationship to another, how on earth will you ever grow, when will you ever learn, when will you ever mature??I know at times, it might be very tempting to leave our place to take a position or a role, if we are busy comparing our chapter two to someone else's chapter twenty but that is never God's plan and will for us.
When we get to a place of promoting ourselves, when we strive to move up or out due to pressure by being weary or anxious, we end up in a place that is not sustainable ,a place of discontentment, a place of competition or a place of inhabiting a covetous Spirit.
God desires us to wait and grow in the place He has designed for us at this point in time so that He can promote us to the next place He has for us. But it's interesting to note, the pathway to the position we desire is never a walk in the park. God will have to work on our character and attitude to enable us to handle the promotion He has for us and remain humble. Look at the life of Joseph in
Genesis chapter 39

he went through a series of tests yet God was molding Him to handle a promotion as the prime minister of Egypt. God sees you right where you are and knows very well where you need to go. Don't try to work through your strength for that promotion but work from a place of trusting and obeying God.
If you are busy pleasing men to promote you, trust me on this: – they will promote you today and crucify you tomorrow. Only God has the power to promote you with honor because He does not have to inquire from anybody, why He ought to promote you. So humble yourselves under the mighty power of God, and at the right time He will lift you up in honor. 1 Peter 5:6
In the meanwhile, be faithful and diligent with your job title and gifts. Be a good steward of your service and resources,walk continually in integrity ,honesty ,excellence and God Himself will promote you.
.
Love You All And Am
For You.