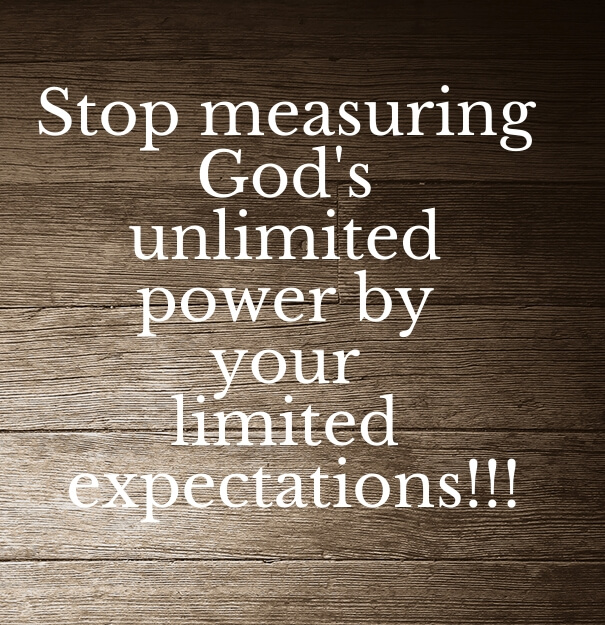 Do you know what differentiates you as a born -again believer and someone who does not acknowledge God in his/her life??
1.Your knowledge of who God is and
2.Knowing your real identity in Christ.
Without proper knowledge of these truths, you can hardly do and be what God envisioned you to be.The way you know God 'personally', will determine how strong you will be as a believer ,how you will be effective for His kingdom agenda here on Earth, how you will walk and experience the supernatural in an imperfect world and how your mind will shift by living in the revelation of His word and not by your current situation. In Daniel 11:32 those who do wickedly against the covenant he shall corrupt with flattery; but the people who know their God shall be strong, and carry out great exploits. Just like Daniel, don't sit down and limit God by your limited expectations,God is more than willing to work through you.On this post i will focus on scriptures and examples of ordinary people that allowed God to use them, in accomplishing their assignment here on Earth.
So, how do we become candidates to do great exploits for God??
1. We must yearn to know God more:-
It is possible to know much about God, His nature and attributes, and yet not know Him personally. The only way we can know Him more, is first acknowledging His son Jesus Christ as our personal savior.
John 14:6
Jesus said to him, "I am the way, the truth, and the life. No one comes to the Father except through Me.
John 17:3
And this is eternal life, that they may know You, the only true God, and Jesus Christ whom You have sent.
So, from acknowledging Jesus as our personal savior, how do we really get to know Him more??
a) We get to know Him as we listen to Him speaking to us.When friends get together they talk and listen to one another, and thus they get to know one another.When we wait in the presence of God regularly, He speaks to us in simple ways and through His Word. In
Luke 10:38-39

Now as they went on their way, Jesus entered a village. And a woman named Martha welcomed him into her house. And she had a sister called Mary, who sat at the Lord's feet and listened to his teaching

.Mary sat at Jesus feet to listen to Him,the same ought to apply in ourlives,we all need to sit as His feet and

LISTEN!!!
b) We get to know Him by speaking to Him. Fellowship is mutual; it is not a one-sided affair, and when we come into the presence of the Lord and open our hearts and our lips to Him, we get to know Him.
Psalms 55:16-17
As for me,
I will call upon God, and the Lord shall save me. Evening and morning and at noon I will pray, and cry aloud,And He shall hear my voice.
Daniel 6:10
Now when Daniel knew that the writing was signed, he went home. And in his upper room, with his windows open toward Jerusalem, he knelt down on his knees three times that day, and prayed and gave thanks before his God, as was his custom since early days.
Know God for you,nobody is assigned by God to that for you.
c) We get to know God by observing what He does and how He does it. This helps us to know Him gradually in our daily walk .
Hosea 6:3

,

Let us know, Let us pursue the knowledge of the Lord His going forth is established as the morning;He will come to us like the rain, Like the latter and former rain to the earth.

Peter 3:18

. but grow in the grace and knowledge of our Lord and Savior Jesus Christ.To Him be the glory both now and forever. Amen.

Be obedient to God's instructions and watch how He will reveal Himself in diverse ways that you never thought of.
2. When we Acknowledge God in our lives we become strong
We should acknowledge God as our source of strength be it physically, spiritually or emotionally. The more we know Him the stronger we become.
Ephesians 6:1
0 Finally, my brethren, be strong in the Lord and in the power of His might.
And when we are strong, then what happens?
3. When we are strong in the Lord,we do exploits for Him here on earth:-
What is an exploit ?? it is a heroic deed of achievement, a great and daring feat. The Bible is full of illustrations of men and women who did exploits for God. Think of :-
Gideon and the 300 soldiers:-Judges 7:19-23 So Gideon and the hundred men who were with him came to the outskirts of the camp at the beginning of the middle watch, when they had just set the watch. And they blew the trumpets and smashed the jars that were in their hands. Then the three companies blew the trumpets and broke the jars. They held in their left hands the torches, and in their right hands the trumpets to blow. And they cried out, "A sword for the LORD and for Gideon!". Every man stood in his place around the camp, and all the army ran. They cried out and fled. .When they blew the 300 trumpets, the LORD set every man's sword against his comrade and against all the army. And the army fled as far as Beth-shittah toward Zererah, as far as the border of Abel-meholah, by Tabbath. .And the men of Israel were called out from Naphtali and from Asher and from all Manasseh, and they pursued after Midian.
Elijah on Carmel1:- Kings 18:36-39 And at the time of the offering of the oblation, Elijah the prophet came near and said, "O Lord, God of Abraham, Isaac, and Israel, let it be known this day that you are God in Israel, and that I am your servant, and that I have done all these things at your word. Answer me, O Lord, answer me, that this people may know that you, O Lord, are God, and that you have turned their hearts back."Then the fire of the Lord fell and consumed the burnt offering and the wood and the stones and the dust, and licked up the water that was in the trench. And when all the people saw it, they fell on their faces and said, "The Lord, he is God; the Lord, he is God."
Elisha and the widow:- 2 Kings 4:1-7Now the wife of one of the sons of the prophets cried to Elisha, "Your servant my husband is dead, and you know that your servant feared the Lord, but the creditor has come to take my two children to be his slaves." And Elisha said to her, "What shall I do for you? Tell me; what have you in the house?" And she said, "Your servant has nothing in the house except a jar of oil." Then he said, "Go outside, borrow vessels from all your neighbors, empty vessels and not too few. Then go in and shut the door behind yourself and your sons and pour into all these vessels. And when one is full, set it aside." So she went from him and shut the doo r behind herself and her sons. And as she poured they brought the vessels to her. When the vessels were full, she said to her son, "Bring me another vessel." And he said to her, "There is not another." Then the oil stopped flowing. She came and told the man of God, and he said, "Go, sell the oil and pay your debts, and you and your sons can live on the rest."
Peter and John at the Beautiful Gate:- Acts 3:1-9 Now Peter and John were going up to the temple at the hour of prayer, the ninth hour.And a man lame from birth was being carried, whom they laid daily at the gate of the temple that is called the Beautiful Gate to ask alms of those entering the temple. Seeing Peter and John about to go into the temple, he asked to receive alms. And Peter directed his gaze at him, as did John, and said, "Look at us." And he fixed his attention on them, expecting to receive something from them. But Peter said, "I have no silver and gold, but what I do have I give to you. In the name of Jesus Christ of Nazareth, rise up and walk!" And he took him by the right hand and raised him up, and immediately his feet and ankles were made strong. And leaping up, he stood and began to walk, and entered the temple with them, walking and leaping and praising God. And all the people saw him walking and praising God, and recognized him as the one who
Paul and Silas while in prison:- Acts 16:25-31 About midnight Paul and Silas were praying and singing hymns to God, and the prisoners were listening to them, and suddenly there was a great earthquake, so that the foundations of the prison were shaken. And immediately all the doors were opened, and everyone's bonds were unfastened. When the jailer woke and saw that the prison doors were open, he drew his sword and was about to kill himself, supposing that the prisoners had escaped. But Paul cried with a loud voice, "Do not harm yourself, for we are all here." And the jailer called for lights and rushed in, and trembling with fear he fell down before Paul and Silas. Then he brought them out and said, "Sirs, what must I do to be saved?" And they said, "Believe in the Lord Jesus, and you will be saved, you and your household."
I can go on and on listing out people that were crazy to walk in faith and do great exploits for God, due to there close relationship with God.
Benefits of Knowing God…..
1.Our confidence is built up :-
We have full assurance in God that despite the challenges we might face in life, we will endure and come out stronger and better
Job 19:25
For I know that my Redeemer lives, And He shall stand at last on the earth
Romans 8:28
And we know that all things work together for good to those who love God, to those who are the called according to His purpose.
2 Timothy 1:12.
For this reason I also suffer these things; nevertheless I am not ashamed, for I know whom I have believed and am persuaded that He is able to k23eep what I have committed to Him until that Day.
2.We overcome temptations and trials;-
In our quest of knowing God, we receive more power to overcome those things that are displeasing to Him
1 Corinthians 10:13
No temptation has overtaken you except such as is common to man; but God is faithful, who will not allow you to be tempted beyond what you are able, but with the temptation will also make the way of escape, that you may be able to bear it.
1 John 5:4
For everyone who has been born of God overcomes the world. And this is the victory that has overcome the world our faith.
3.We become a pillar of encouragement to others ;-
Isaiah 40:31.
But those who wait on the Lord,Shall renew their strength;They shall mount up with wings like eagles,They shall run and not be weary,They shall walk and not faint.
4.We enjoy our inheritance as God's children here on Earth:-
Acts 20:32
And now I entrust you to God and the message of his grace that is able to build you up and give you an inheritance with all those he has set apart for himself.
Ephesians 1:11-14
Furthermore, because we are united with Christ, we have received an inheritance from God, for he chose us in advance, and he makes everything work out according to his plan .God's purpose was that we Jews who were the first to trust in Christ would bring praise and glory to God. And now you Gentiles have also heard the truth, the Good News that God saves you. And when you believed in Christ, he identified you as his own by giving you the Holy Spirit, whom he promised long ago. The Spirit is God's guarantee that he will give us the inheritance he promised and that he has purchased us to be his own people. He did this so we would praise and glorify him.
Colossians 1:11-12
We also pray that you will be strengthened with all his glorious power so you will have all the endurance and patience you need. May you be filled with joy, always thanking the Father. He has enabled you to share in the inheritance that belongs to his people, who live in the light.
5.We know who we are and who we belong to:
Galatians 4:7
Now you are no longer a slave but God's own child.And since you are his child, God has made you his heir.
Galatians 3:26
For you are all children[a] of God through faith in Christ Jesus.
2 Corinthians 6:18
And I will be your Father, and you will be my sons and daughters,says the Lord Almighty.
Stop measuring God's unlimited power
b
y your limited expectations.
Love You all And Am Praying For You